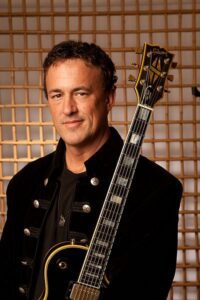 ERIC KEYES
Guitar (electric, bass), Ukulele, Voice, Piano Teacher
Eric Keyes is a musician and songwriter whose passion for life shines through his songs. He is often described as someone who sings with his soul, a world-class guitar player whose music has a unique feel.

Eric was born April 8, 1969 and grew up in Houston- Texas. His father worked in the oil business and was an avid saltwater fisherman, leading Eric's family to spend many weekends at the beach. A self-portrait painted during his last year of junior high won Eric an award and earned him a scholarship to the Glassell School of Art.

Art and baseball consumed most of his time after school— until he got a guitar. At the age of 18, he registered for the draft, making his father, a Navy veteran, proud. Fortunately, Eric never got called to service as later that year he was accepted to the music program at the University of North Texas in Denton, where he graduated with a degree in music.

He then went to work in the music business, immediately touring and pursuing his dream. He released six records and got to travel and see the world along the way. Over the years, he became good friends with musicians Clint Strong and Allan Holdsworth, who taught him more about music and guitar—just from conversations—than he had learned in 4 years at one of the best music schools in the world.

His life philosophy is centered on action. "The greatest teachers in my life have been doers," Eric recalls. Whether playing or teaching, he aims to inspire and instill massive confidence. Eric enjoys teaching young students as well as adult students and hopes to be an inspiration to those who are seeking to learn a new music skill.

Eric owns a solid black male German Shepherd that he loves and walks every day. He enjoys dinner parties, outdoor BBQ's and reading great books.