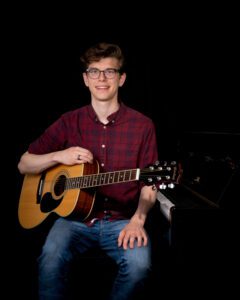 JONATHAN HODGES
Violin, Viola, Piano, Guitar, Ukulele, Songwriting, Composition
Jonathan Hodges is an American multi-instrumentalist, teacher, and singersongwriter based in Dallas, Texas. For the past seven years, Jonathan has taught violin, guitar, and piano to children as young as two, and adults upwards of 50. With established experience as a concert violinist, improvisational pianist, and studio musician, Jonathan teaches from a unique vantage point. A firm believer that every student should be taught according to their individual qualities, Jonathan holds music to be an important facet in the upbringing and education of well-rounded individuals.
Beginning his undergraduate studies at Seattle University in 2015, Jonathan entered his freshman year as a Lockwood Scholar, gaining admittance to the prestigious University Honors Program. Upon completion of his first year, Jonathan was named sole finalist for the junior division of the Seattle University String Competition, and semi-finalist in the Don Bushell Concerto Competition. Shortly thereafter Jonathan transferred to Southern Methodist University. Jonathan graduated from Southern Methodist University in 2019 with a bachelor of music degree in violin performance, where he completed his studies with Diane Kitzman. His former teachers include Marla Feeney, Alexander Serafimov, Ivan Ženatý, Chee-Yun Kim, and Diane Kitzman. In addition to learning and performing established violin repertoire, Jonathan is known for his piano improvisation and is often employed at weddings, company parties, receptions, and private residences.
Given the many joys that accompany a life filled with music, Jonathan seeks to enrich the lives of his students through the realization and expression of musical, emotional, and intellectual potential.